Laser cutting is one of the most rapidly developing production technologies. Innovative laser machines can now process a huge amount of different materials with high accuracy. Today laser machines for metal cutting are no longer luxury, but a necessity for representatives of industrial enterprises.
This is due to the fact that the quality of laser-processed parts is colossal. This exactly what makes laser processing popular with equipment manufacturers in which the production of details requires high precision and quality. Laser equipment for cutting metal is necessary in the many different fields, from enterprises of the machine-building industry to companies, working in the sphere of design.
But what are the advantages of laser cutting over other manufacturing methods? Of course, this, as already mentioned, is the high accuracy and quality of products. However, the machine for laser metal cutting provides a few more key points that complies the requirements of advanced production technologies.
High performance
High speeds and the ability to process metal of various thicknesses help to ensure high productivity in the production process. Laser CNC machine for metal, in average, provides a speed of movement of up to 10 meters per minute, in depending on the thickness of the processed material. Due to the fact that laser cutting - non-contact process, tools and accessories have a higher wear resistance, which significantly reduces ancillary production costs.
Low heat output
The advantage of high speeds is that due to the short processing time the diffusion of high temperatures into the workpiece material is reduced. This reduces the probability of receiving thermal damage and deformation of products.
Process optimization
Once the workpieces are laser cut, they are usually prepared for subsequent operations. Parts have smooth edges, and this implies an exclusion from process locksmith operations, and readiness for assembly, welding and other operations.
Due to the listed advantages, it is reasonably to buy a fiber optic laser machine for business, instead of milling or coordinate punching equipment.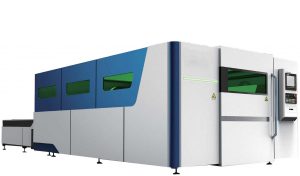 The "MTech" company is a leading manufacturer of laser metalcutting machines. Our laser metalcutting machines combines two main qualities - availability and reliability. Our laser cutting machines combine two main qualities - availability and reliability.
The main advantages of our machines are the segmented rectangular bed, made of sheets with a thickness from 12 to 20 mm, with high processing accuracy. Stiffening ribs that provide strength and increase the frame stability, also prevent deformation of the working area. And an innovative constructive solution - triangular guide rails which ensures even load distribution for equable load distribution on bearings. You can buy from us laser metalcutting machine that corresponds to all the requirements of the specifics of production, and and takes into account the characteristics of the production site.
The lineup represents three main types of laser equipment, and each of them has its own characteristics:
FL3015 open table fiber FL3015:

ease loading / unloading of material and workpieces;
cast aluminum portal of the third generation;
laser sources Raycus, IPG, TruDisk; Automatic laser cutting focusing head Raytools AG;
linear guides Bosch Rexroth;
Yaskawa servos.

FLE3015 closed type fiber FLE3015:

fully enclosed structure, responsible for the provision of the safety at work;
protective viewing window of European quality;
built-in smoke filtration function, that is generated during the process of cutting metal, ensures compliance of the equipment with the requirements of protection environment.

FLA3015 closed type machine with interchangeable work table: FLA3015:

smooth lifting and lowering of the platform, when changing the worktop;
time for changing worktops - 15 seconds;
automatic focus adjustment software
adjustment range from -10 mm to +10 mm, accuracy 0.01 mm;
the presence of a heat sink, which reduces the temperature of cutting head, for ensuring maximum service life.
The price of laser metalcutting machines depends on the power of the laser source and its manufacturer. Thus, the cost of a laser metalcutting machine with an open worktop, starts at $ 38,000 for an open model with a 1 kW Raycus source.
"MTech" is a leading manufacturer of quality and reliable equipment, therefore you can buy a laser machine for metal in Ukraine from us.